Humminbird 797C2 Side Imaging Combo: For Sale
I purchased this unit new and have had it for almost a year, and it has served me very well. I am upgrading to a new 798. The unit is in excellent shape, with no scratches on screen. The hour meter reads 104hrs. I have upgraded to the latest firmware (Feb 2009) version 4.510, which includes some new SI features, along with an upgrade for 2D sonar, and GPS.
The side imaging has just been amazing for me. It has provided great info on structure, even on water I have fished for many years. You can tell which way logs and structure are oriented without multiple passes directly over it. The high-resolution color 2D sonar is remarkable, too. I can watch my jig on the bottom.
Price is $720 shipped to your door with insurance and tracking. (48 states only)
PayPal preferred, but would accept a PO Money Order or check after clearing. Please do not make lower offers. If I had to go any lower, will keep it for the bow trolling motor finder. Thanks for looking.
Includes:
· 797C2 SI Combo head unit
· Removable screen protector film
· Tilt swivel mount (unused)
· Power cable (unused)
· Transom Transducer Compact SI, dual-beam, and temp
· Transom Transducer Bracket and mounting H/W (unused)
· External AS GR16 GPS Receiver and mounting H/W
· GPS Pig-tail
· Misc. Mounting Hardware
· Original Manual (unused)
· Original Box & paperwork
Pictures: (Note: GPS receiver is on boat still, so not shown in pictures)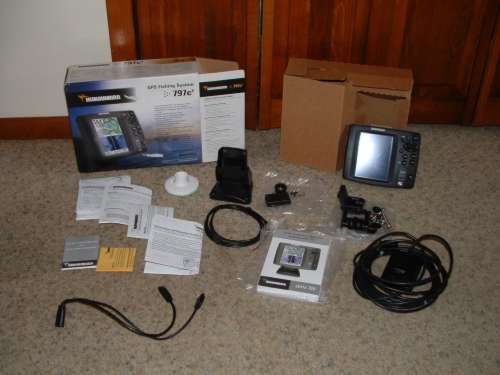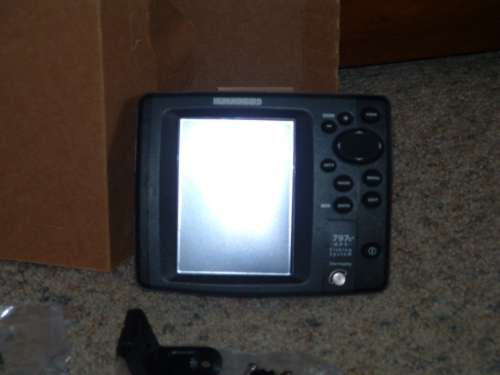 http://joefish.homestead.com/HB4sale.html
Some SI images I captured:
http://joefish.homestead.com/SIsusky.html
User Manual:
http://www.humminbird.com/support/FAQ.aspx?faqid=72
HB Specs:
http://store.humminbird.com/product-view.ep?pID=720954
Humminbird Specs from website:
Specs:
Display Size: 5.0" diagonal
Display Pixel Matrix: 640V x 480H
Display Type: 256 Color TFT
Display Colors/Grayscale: 256 Colors
DualBeam PLUS
Sonar Coverage · 200 kHz / 20˚ @ -10db · 83 kHz / 60˚ @ -10db
Side Imaging
Sonar Coverage · 455 kHz / (2) 86˚ @ -10db
Sonar Optional: QuadraBeam PLUS
Target Separation: 2.5 inches
Power Output (RMS): 500 Watts (RMS)
Power Output (Peak to Peak): 4000 Watts (Peak-to-Peak)
Temperature: Included
Speed: GPS Speed Included
Backlight: Yes
Waterproof: Yes
Mount: Quick Disconnect
Unit Size: 6.9" W x 7.5" H x 4.5" D
Mount: Optional In-dash
Unit Size: 6.9" W x 5.4" H x 1.25" D
Transducer - Standard: XNT-9-SI-180-T
Transducer Mounting: Transom
Power Input: 10-20 VDC
Features:
ADVANCED SONAR FEATURES
· Freeze Frame with ability to Mark Structure on Sonar
· Instant Image Update
· Real Time Sonar RTS Window
· Selective Fish ID
· Sonar Echo Enhancement
· Sonar Recording
· Sonar Snapshot
· Sonar Zoom View
· Split Screen Zoom
· TrueArch Technology
· Wide Narrow Cone Split Screen
USER-FRIENDLY TECHNOLOGY
· Custom Digital Readout Selection
· Custom View Selections
· Large Digits View
· Quick Disconnect Mounting System
· Selectable Background
· Temperature Alarm
· Triplog
· X Press Menu System